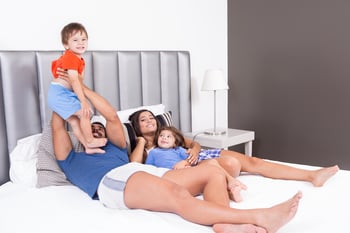 If you are like most people, when you think of buying a new bed, the first thing (and probably the only thing) that comes to mind is that brand new, perfect mattress. While the mattress is obviously an essential piece of the peaceful slumber puzzle, do not rule out the importance of great new bed frames!
Related Blog: Why Buy a Knickerbocker Bed Frame

The Rock
The Rock is a bed frame that's excellent for a growing family or a family that has some growing members. This heavy-duty frame can accommodate its owners throughout the life cycle of mattress sizes. Because of its three-in-one design, The Rock will happily host twin, full, and queen-sized bedding. The vertical center support is positioned such that it's properly placed, no matter which size bedding it's holding up. the pedestal-style legs are complemented by the sturdy glides. As your family's needs ebb and flow, this frame will do triple-duty to keep up with changing times. This frame has also been known to get along well with hardwood floors.

The Ultima
For every well-known brand, there is a product that's tried and true. For Knickerbocker, The Ultima is the original frame, and it's still one of the most popular items available. True to its name, The Ultima offers the ultimate durability with its high carbon rail track steel. Pedestal legs are overseen by a heavy-duty angled iron and carried by deluxe rug rollers. The center support is comprised of a dual beam product, which accommodates any size bedding from twin all the way up to king.

The Monster
While a monster under the bed is probably a bad thing, a bed called a monster can be quite a positive experience. The Monster is arguably one of the strongest frames available on the market. Capable of withstanding tremendous amounts of weight, the two-inch side rails are the secret weapon to this frame's design. In fact, this seemingly insignificant design detail actually allows the strength of the frame to double! Couple that with the incredible flexibility of the five-in-one design, and this heavy-duty product has easily become one of America's favorite frames. Standard sizes of twin through kind are easily housed atop this monstrously strong metal. Even more special, however, is the fact that The Monster can support a California King, as well!

Looking for a little help picking the right Knickerbocker bed frame to suit your needs? Contact our Land of Sleep specialists today!