When you decide to buy a new mattress, there are a lot of choices to make and factors to consider. What brand? What style? What size? Each of these questions answers an important question and the sum of those answers equals your final solution.
Luckily, Land of Sleep is here to help with our simple, 3-step guide to picking out the perfect mattress.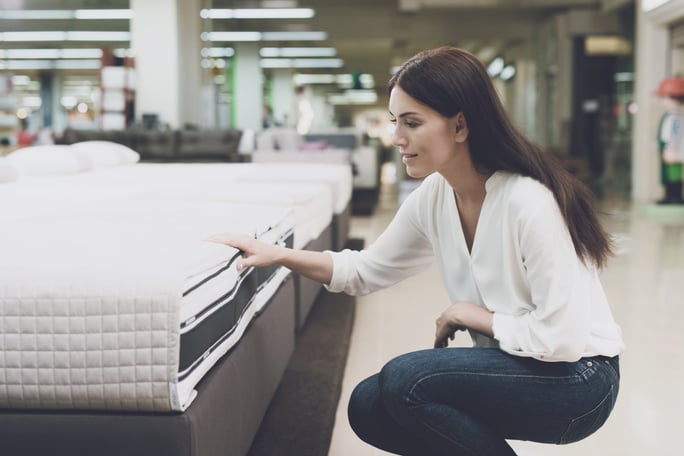 Step 1: What to Look for in Your New Mattress
There are various features you can look for in a mattress to ensure you get the best.
Firmness
For those who love that sinking feeling in a mattress, latex and memory foam mattresses are the best bet. These react to your body weight by giving way to contour to your body shape.
Most spring mattresses tend to be firmer and thus provide more support. Gel mattresses tend to react to pressure rather than give in, while hybrids are designed to the best of both.
Temperature Regulation
Some memory foam mattress brands are known to get hot and clammy while sleeping. That's because they lack proper air circulation and retain heat instead of redistributing it. Coil, gel, and latex mattresses tend to remain cool because they have natural air channels inside which help to regulate heat.
Motion Transfer
Continuous coil springs are infamous, especially among couples, for transferring motion when one moves and the whole mattress moves with them. That's because the coils inside are all wired together and transfer motion instead of absorbing it.
If you're looking for a comfortable mattress that won't force you to roll over every time your partner moves, consider a memory foam, latex, or Marshall coil mattress.
Mattress Size
How much space do you need and how much space do you want? To answer this question, you'll need to consider how big the room is, how big the bed frame is (if you already have one), and realistically how big of a mattress you need. Whether it's queen, king, full, or twin, the size of the mattress will greatly affect the cost.
So, you need to find the balance between want and need to help find the size that fits your wallet, your room, and yourself.
Durability
High-end mattresses tend to be expensive, so durability is definitely an issue. Check the quality of fabric and foam used, observe the quality of the stitching used, and consider the length of warranty given.
Step 2: Choose From the Most Popular Types of Mattresses
How well you sleep is crucial to your health and daily performance. The type and quality of mattress you use is a big part of that. Given that we all sleep in different positions and have varying needs, it is important to learn as much as possible about mattresses.
There are five major types of mattresses; here they are classified by their different designs and types of materials used:
1. Continuous Coil Mattresses
Also referred to as coil or innerspring mattresses, these are made of a steel coil core padded with fibers or foam and an additional upholstery layer on top. Coil mattresses are cheap and offer a lot of support, as well as being very durable depending on the gauge of coils used.
Older coil mattresses can get noisy, but they are popular because of their low cost.
2. Fabric-Wrapped or Marshall Mattresses
Unlike the wire-bound coils of innerspring mattresses, these have a core of steel or titanium springs encased individually in fabric which allows them to react individually to movement. This design makes them perfect for people who need a springy yet supportive mattress that won't roll them around in their sleep, and are the perfect mattress for side sleepers.
3. Memory Foam Mattresses
Memory foam is a type of polyurethane material called viscoelastic. It was invented for NASA to help absorb crash energy to protect astronauts. This property also helps them conform to your body shape and provide extra comfort and support.
Memory foam mattresses are perfect for everyone, including those with painful conditions such as arthritis as they help reduce soothe pressure points.
However, they are known to get hot due to poor air circulation which can make it difficult to stay cool while sleeping.
4. Latex Mattresses
Natural or synthetic molded latex rubber makes a super springy, durable, and temperature-stable mattress. They are some of the most expensive mattresses, especially if made of natural latex.
Learn more about natural vs synthetic latex mattresses here.
5. Hybrid Mattresses
Hybrid mattresses are made of a combination of material and designs including coil and memory foam, innerspring and latex, memory foam and gel, as well as coil and fiber. iSerta's iComfort Gel Memory mattresses are some of the best-known hybrids.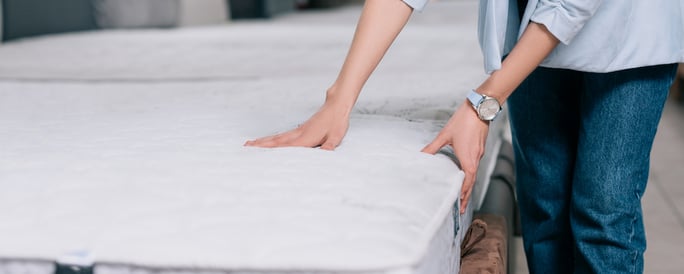 Step 3: Pick the Right Mattress Brand
When choosing the perfect mattress, buying the right brand makes a big difference. Knowing the specific brands will help you choose the ideal mattress for your needs and your price range.
Disclaimer: Contact your local Land of Sleep store for mattress availability
1. Serta
Serta is the world's second-biggest manufacturer of mattresses and the biggest in the US. Founded in 1931, the company is one of the most popular thanks to its range of iComfort gel hybrid mattresses that offer maximum comfort, cooling, and support.
The iComfort range consists of memory foam with cooling features and hybrid options, price will vary depending on which options you choose.
Another home mattress range from the company is the Serta Perfect Sleeper for innerspring, memory foam, or hybrid design.
2. Tempur-Pedic
Tempur-Pedic pioneered the memory foam mattress with their patented commercial Tempur Foam. Tempur is one of the industry's best memory foam mattress manufacturers.
The company has three major mattress lines for you to consider:
Tempur-Pedic Cloud Series—Designed to offer soft responsive comfort. They make excellent

mattresses for side sleepers

.
Tempur-Pedic Contour Series—Medium-firm to extra-firm memory foam mattresses.
Tempur-Pedic Flex Series—Hybrid mattresses with a core of Fabric-Encased springs and a memory foam upholstery top layer.
3. Beautyrest
Beautyrest is a line of luxury mattresses that have been manufactured by Simmons Bedding company since 1925. They mainly consist of pocketed coil and hybrid mattresses available in Black, Hybrid, Platinum, Silver, and Classic Beautyrest series. The Black and Silver series are the best known and are the most popular of Beautyrest's line.
Black Series—Luxurious mattresses consisting of Firm, Plush, and Pillowtop options.
Silver Series—Affordable pocketed coil collection, considered a step below the Black Series but still a great, more affordable option..
Beautyrest also has a full range of Hybrid options offering extra cushioning, support, and cooling.
4. Sherwood
Sherwood is a privately-owned company specializing in innovative, high-quality but affordable mattresses in innerspring, pocketed coil, memory foam, latex, and hybrid options.
Sherwood Lumina—Luxury pocketed spring and hybrid mattresses with prices starting at $699 to $1,500.
Sherwood Encore—Advanced luxury pocketed coil and hybrid mattresses layered with natural Talalay latex and memory foam.
Sherwood Evosleep—Eco-friendly (soy-based) memory foam and hybrid mattresses.
Sherwood Dunlopillo—The most popular natural latex mattresses.
5. Restonic
Restonic is a legend in American mattress manufacturing having been in business for over 80 years. The company produces traditional innerspring, hybrid, memory foam, and latex foam designs. There are three collections:
Restonic Scott Living—High-end mattresses in innerspring, hybrid, and latex options featuring Restonic's Q5 twin support pocketed coils.
Restonic Comfort Care—A collection of two-sided mattresses with a micro-coil layer and Tempagel memory foam with zoned support.
Restonic Biltmore—The premium range with foam and hybrid models.
6. Kingsdown
Kingsdown handcrafts mattresses as it has been doing since 1905. The company is best known for groundbreaking research and testing every mattress made to ensure top quality. It has 8 collections available, including:
BodyPerfect—An intelligent design that actively changes to enhance support, it comes with an Android tablet and custom app.
Passions—Gel-infused mattresses with fabric cushioning and a pocketed innerspring core.
Prime—This is a premium range with a pocketed coil core, a microfiber cushioning layer, and a gel layer for cooling.
Sleep Smart Air—A range of adjustable mattresses with independently controlled lumbar support controlled by a powered base.
Sleep to Live—Customized, handcrafted mattresses designed to meet each buyer's unique needs.
Vintage—A classic range with thick layers of soft, breathable cotton and wool with a core of pocketed coils.
My Side—Designed using Kingsdown's bedMATCH technology to deliver personalized support and pressure relief.
7. Spink & Co
Spink and Co. is the only company with its own farm in Britain where it sources all the necessary materials including wool, hemp fiber, and flax from which it manufactures world-class mattresses here in the USA. Its collections are named after cities in Britain and include:
All the Best Brands Under One Roof
You'll find all these amazing brands under one roof at our Land of Sleep stores in Sarasota and Venice. So, come see the future of sleep with your own eyes and try out all of our mattresses to find the perfect brand, size, and type for you.
A good mattress is a matter of preference. The best way to find the right mattress for your needs is to scout around and test each before making your decision. We invite you to check out and test the various types of mattresses available at Land of Sleep locations in Sarasota or Venice.