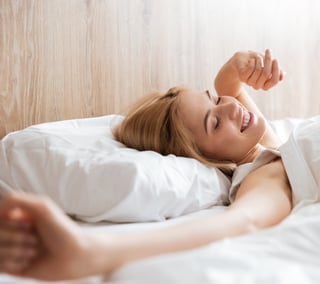 After a long day's work, your body deserves a comfortable resting place that will invigorate it for your next day's tasks. From a biological perspective, having a good night's sleep can relieve you from lots of pressure. Needless to say, pressure is harmful to blood circulation. It can block blood from flowing to some parts of your body. To allow uniform blood circulation throughout your body, a good mattress goes a long way in reducing your body pressure, which in turn ensures proper blood circulation. In addition, a whole night of a comfortable sleep can save you from back pains.

Related Blog: Improve your Circulation with an Adjustable Bed
How does a good mattress improve blood circulation?
A good mattress allows your body to conform to its natural contours during your sleep. This means that it shouldn't be too firm to deprive your body from curving itself in your usual sleeping style. When you sleep on a too-firm mattress, there are high chances that your body will experience high-pressure areas that can block uniform blood circulation. Consequently, blood will not flow throughout your body evenly.
A good mattress not only enhances blood circulation, but also improves your cognitive abilities, enhances creativity, lower blood pressure, improve athletic performance, reduces stress, and boosts happiness. Besides, a good mattress creates the best environment for self-meditation and reflection. Falling asleep is much easier when on a quality mattress as well.

What constitutes a good mattress?
It is not obvious that high-priced mattresses are good. Several aspects can be attributed to determining that a mattress is good. At times, the level of firmness of a mattress can be different depending on individual needs. A well-padded mattress might also be an option you need to consider when choosing a good mattress.
Generally, a soft mattress is suitable for many users. The next time you're shopping for a mattress, take your time to test and choose the most comfortable mattress according to your body before making a purchase.