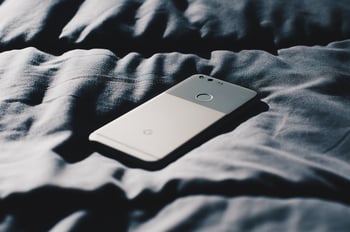 When it comes to getting a good night's sleep, it's important that you have the right mattress. After all, 1 in 3 adults aren't getting enough sleep on a regular basis. But what else can you do to improve your sleep and wake up feeling focused and refreshed? How about trying a new sleep app? There are so many cool and innovative apps on the market but we've narrowed it down to 6 of our favorite snooze-friendly apps from smart alarms to ambient sounds designed specifically for sleep.
Related Blog: The Future of Sleep: New Technologies That May Change the Way We SleepPublished
1. Sleep Cycle
Sleep Cycle is an intelligent alarm clock that's build to analyze your sleep and wake you up at the perfect time. Here's how it works. The app senses your sleep stage using sound analysis and tracks your movements while you sleep. It aims to wake you up at the lightest possible sleep stage within 30 minutes of your alarm time.
2. Pzizz
Pzizz uses human composed, algorithmically remixed sounds to help you fall asleep, stay asleep and wake up feeling energized. The app gradually learns which sounds you prefer, creating what they refer to as "dreamscapes," which are tailored to suit different sleep stages. It can be used offline, which is helpful when trying to sleep on an airplane. In a study, Pzizz proved to be more effective at improving sleep than other relaxation music.
3. Headspace
Headspace is a popular meditation app, which describes itself as a "personal meditation guide, right in your pocket." The app features hundreds of sessions, each with a specific theme, ranging from focus to anxiety to sleep. On the free version of the app, you can listen to "sleepcasts." This audio, which lasts from 45-55 minutes each, helps you to imagine calming imagery, such as a relaxing garden. In addition to helping you sleep, these sessions can help you live mindfully and reduce your daily stress.
4. Noisli
Noisli is like Pzizz in that it uses sound to help you get your ideal sleep. However, what makes this app special is that you're able to customize your soundscape in order to create "your perfect environment." Choose from sounds including rain, forest, seaside, summer night, and coffee shop to create a soundscape to help you relax or to help you focus while working and give your productivity a boost. Regardless of your needs, the sounds are high quality and the Noisli provides you with a color-changing background as a means of chromotherapy.
5. Pillow
Pillow is a sleep tracker that helps you to better understand your sleep. The app tracks factors such as your heart rate, sounds such as snoring and sleep talking, and movement. When using landscape mode, you can read detailed statistics that go back to your first session using the app. If you connect Pillow to Apple's Health app, it can compare the quality of your sleep to factors such as blood pressure, your weight and your caffeine intake.
6. Calm
Calm is a sleep and meditation app that can boast that is was Apple's app of the year in 2017. It offers 100+ guided meditation sessions, music tracks that can help you with specific needs such as focus or sleep, masterclasses taught by experts and the unique "sleep stories." Sleep stories are like bedtime stories but aimed at people from children to adults. These soothing stories are read by well-known voices and can help you to unwind at night or simply relax.
Overall, there are so many interesting ways to sleep when you use apps. Try one today while sleeping on a new, luxury mattress that can change your quality of life from Land of Sleep.