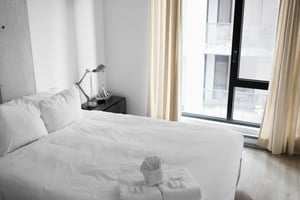 The quality of your mattress can greatly enhance or degrade the quality of your sleep. It goes without saying that with better sleep we feel and function better the following day. A 2009 study showcases just how big of a difference a new, more supportive mattress can have on our sleep.
Related Blog: Foam vs Coil vs Memory Coil Mattresses
In the study, subjects slept in their own beds for 28 days and another 28 days on a new medium-firm mattress. Overall, the majority of the participants reported feeling less stressed and reported an increased quality of their sleep and less back discomfort.
One of the leading mattress brands on the market, Tempur-Pedic, promises a perfect night's rest thanks to the NASA space-age tech used in their mattresses. But does the company truly offer something unique to other memory foam brands?
The 'Tempurpedic Difference'
Since the early '90s, Tempur-Pedic mattresses have claimed to be the only true memory foam mattresses on the market. Originally based on NASA's designs for a material to cushion aircraft seats for added durability, Tempur-Pedic mattresses are considered by many to be one of the top-of-the-line brands due to their ability to respond to body shape, weight, and temperature almost immediately after lying down.
Tempur-Pedic mattresses are responsible for a variety of sleep and overall health and wellness enhancements according to the reviews of those who have used them and the company's own assertions. Reviewers claim the mattresses were excellent for easing back and neck pains and even went so far as to say that sleeping on a Tempur-Pedic mattress is 'like sleeping on a supportive cloud'.
However, with the cost of Tempur-Pedic mattresses greatly exceeding almost every other memory foam option on the market, are these brand name mattresses really that much better than the competition?

Other Memory Foam Mattresses
Tempur-Pedic's statement that they are the only memory foam mattress providers on the market is somewhat less than true. However, it is a fact that not all memory foam mattresses are created equal. One of the main differences in high-end memory foam and cheaply made alternatives is the density of the foam that is used in the crafting of the mattress.
Though memory foam mattresses are used for their ability to contour to the shape of the body, lower density memory foam will keep the indentation of the body, whereas high-density foam will slowly return to its original shape. Ensuring your memory foam mattress is crafted from high-density foam is important in picking a mattress that will provide comfort and support for many nights to come, however, Tempur-Pedic is far from the only provider of high-density memory foam mattresses.
Tempur-Pedic's high price points are a major point of contention with many possible buyers. With many mattresses costing prices consisting of triple zeros, Tempur-Pedic mattresses are not an option for sleepers on a more frugal budget.
Memory foam mattress options are available at much lower costs from brands that put just as much or more into their products as Tempur-Pedic at prices available to the everyday buyer.
Laying down the facts
Though Tempur-Pedic was one of the first memory foam mattress companies on the market, many alternatives of near same quality are available today at reasonable and affordable costs.
In addition, other types of mattresses that provide many of the same advantages as memory foam are offered by brands you know and love. Mattresses like Serta's iComfort line, crafted using a combination of innerspring, gel, and memory foam, or the Beautyrest Silver, specifically engineered to maintain it's comfort level and shape, are using new and old technologies alike and combined to provide a better night's sleep.
But, you can never know which is right for you until you lay on one.
To find out what these mattresses can do for you, or any of the expansive offerings of Land of Sleep, visit them online now or in one of their two Florida locations in Sarasota and Venice.