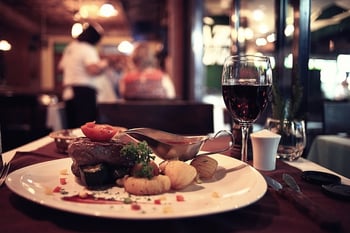 Food is meant to be just as much of a social experience as it is a nutritional one. There are a variety of great restaurants in Sarasota and Siesta Key with tempting and tasty dishes around every corner. Here are our top picks!
Related Blog: Top Ten Siesta Key Activities to do This Summer
1. Bob's Train
Avoid the same old, same old by taking a tasty adventure aboard Bob's Train - Restaurant and Circus Museum. The train cars offer a unique way to enjoy food that's equally as inventive as the atmosphere in which it's served.
2. Bonjour French Cafe
Breakfast just isn't the same when it comes from across the pond. People love Bonjour French Cafe throughout the day, but the creative crepes tend to be a particularly favorite way to start the day.
3. Marcello's Ristorante Italiano
Whether you're celebrating a special occasion, or you just want a special plate of food on a random Tuesday night, Marcello's Ristorante offers exceptional Italian food made with local produce in an intimate and elegant setting.
4. Sun Garden Cafe
When breakfast or lunch beckon, Sun Garden Cafe is a favorite for locals any day of the week. This garden restaurant produces food made with fresh produce that does a body good, and it's been voted Best Bacon for seven years running.
5. Maximillian's Cafe
Monday through Friday, Maximillian's Cafe has lunch on lock in Sarasota. Super friendly employees serve up sandwiches and subs that will make you knock the door down for more.
6. 3.14 Pi Craft Beer
Casual encounters of the pizza pie kind are famous at 3.14 Pi Craft Beer. People say this place has the best pizza on Siesta Key, and the breadsticks get pretty rave reviews, too.
7. Beauty of Sprouts
Vegan, vegetarian, and gluten-free options are easier to come by these days, but not every place can dish up healthy dishes quite like Beauty of Sprouts. Good-for-you food never tasted so good!
8. The Hub Baja Grill
The beach isn't the beach without a fruity cocktail in hand. The Hub Baja Grill is a flip-flop-friendly establishment with fun a fun fiesta-inspired variety of food.
9. Lobster Pot Restaurant
Take advantage of everything the ocean has to offer with phenomenally fresh seafood and super friendly service.
What are your picks for top restaurants in Sarasota? Give us your list of recommendations at our Land of Sleep Facebook page!