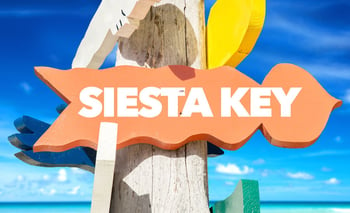 Siesta Key is an idyllic area known for its beautiful beaches and fantastic weather, and it also offers plenty to do and see. Enjoy these top ten Siesta Key activities this summer:
Related Blog: Why Buy Your Mattress for Your Siesta Key Vacation Home With Us

1. Siesta Key drum circle
Each Sunday evening, a joyous drum circle forms on Siesta Key Beach an hour or two before sunset. Look for the crowds and listen for the noise, and you're sure to find it.

2. Siesta Key Beach
With its beautiful white sand that stays cool under your feet, Siesta Key Beach is a popular destination for sunbathing, swimming, collecting seashells, picnicking, playing volleyball, and more.

3. Water Sports
Water sports are extremely popular Siesta Key activities, with parasailing and jet skiing topping the list.

4. Dolphin Watching
Many fishing charters are dedicated to dolphin watching, so bring your camera along and enjoy the area's marine wildlife in its natural setting.

5. Siesta Key Farmer's Market
Open Sundays from 8 a.m.-1 p.m., the Siesta Key Farmer's Market is an enjoyable place to stroll through and pick up a few souvenirs. You'll find everything from plants, foods, and vegetables to organic skin care products and wares from local artisans.

6. Fishing
Take your own boat, fish off of a pier, or hire one of the area's many charters to reel in a big one!

7. Dock-and-dine Restaurants
Siesta Key has plenty of dock-and-dine restaurants where you can dock your boat and feast on oysters and other seafood and enjoy a cold beverage.

8. Turtle Beach
This less-crowded, more laid-back beach is located on the south end of Siesta Key. It offers the ideal setting for camping, kayaking, or simply enjoying the day.

9. Paddle Sports
For an up-close view of the natural beauty and wildlife of Siesta Key, paddle sports let you explore the area in a leisurely way. Take your own kayak or paddleboard, or rent one, and you're set. If you're a beginner, lessons are also available.

10. Night life
Siesta Key has several popular bars and pubs that reflect the island's laid-back, tropical atmosphere. They're a great place to unwind.

After a busy day in Siesta Key, you'll need a good night's sleep to start the next day. Visit one of Land of Sleep's two locations to find a high-quality mattress that will leave you feeling rejuvenated and ready to start the next day's activities.