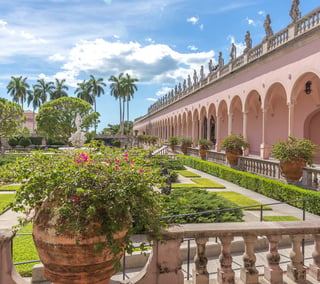 If you and your family are moving to Sarasota, Florida, not only will you be living on the beautiful Gulf Coast, Sarasota also offers a plethora of attractions for all family members. Whether it's the beaches and sunshine, or music and arts. Following are the top ten things to do when you move to Sarasota, Florida.
Related Blog: Top 9 Restaurants in Sarasota and Siesta Key
1. Siesta Key Island and 2. Siesta Key Village
Siesta Key, an eight-mile-long island, has beaches consistently rated as some of the best in the country. The sand on the beach is nearly 100% quartz, almost completely white, and powdery soft to the touch. For refreshment, head to the center of the island to Siesta Key Village; a picturesque area filled with shops, restaurants, and bars.
3. Sarasota Jungle Gardens
The Gardens provide ten acres of trails, and gardens to enjoy, with wildlife like flamingos, birds, and more. Don't miss this opportunity to feed a flamingo by hand!
4. The Ringling and 5. Ca d'Zan
The Ringling, one of Florida's most popular art museums, was established by John and Mable Ringling in 1927. The art museum contains 21 galleries of art, offering over 10,000 items, including paintings, drawings, sculptures, and art pieces. The estate also contains the fabulous winter mansion the Ca d'Zan.
6. Myakka River State Park and 7. Canopy Walk
Myakka River State Park, one of Florida's largest state parks, covers over 37,000 acres. The Myakka Canopy Walk is the most popular hike, featuring a walkway above the treetops, ending with a 76-foot observation platform offering astounding views of the river basin.
8. Van Wezel Performing Arts Hall and 9. Roskamp Auditorium
The spectacular Van Wezel hall is an architectural landmark, and the cultural venue for Broadway musicals, world-class symphony orchestras, and national and international dancers and performers. The Roskamp Auditorium contains state-of-the art lighting and sound systems, and can seat up to 1,736 people.
10. Legacy Trail
The 11-mile Legacy Trail is a paved track that starts in Palm Ranch and ends at the historic Venice Train Depot. Built on an old railroad corridor, the trail is regarded as one of Florida's best biking trails.
Sarasota has something for everyone. No wonder people flock to enjoy some of the world's best beaches, premiere cultural events, and fabulous outdoor excursions.