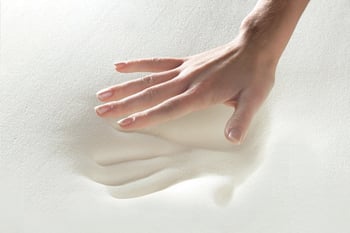 When you're trying to find the best place to buy memory foam mattresses in Venice, forget online retailers and head over to Land of Sleep. Nothing compares to seeing, touching and laying on a mattress to ensure that it's the right firmness, size and comfort level for your needs. Land of Sleep has several styles of memory foam beds by top brands to choose from and carries frames to provide proper support.
Related Blog: Same Day Mattress Delivery in Sarasota, Venice and Lakewood Ranch
Advantages of memory foam mattresses
Many people love memory foam because of the lack of springs and coils that can poke through mattress materials over time. Memory foam conforms to the body in ways that a traditional innerspring coil mattress can't, which reduces pressure points and can improve sleep. Other benefits of memory foam beds include:
Adjusts to body weight and heat
Memory foam is made of temperature sensitive material that enables it to adjust to your weight and heat becoming softer and cradling your body in a comfortable position.
Pain relief
Areas of pain in your body such as the joints, have a higher average temperature than the rest of the body and the memory foam mattress eases such pain by displacing pressure along your body and being softer in the warmer areas. This effect can help ease body aches and soreness, which helps you recover quicker and sleep better.
Spine support
Memory foam helps with the proper alignment of your spine when you're lying down, which can relieve and prevent back and neck problems. Using a memory foam pillow along with your mattress can further support your spine.
Less allergen issues
The materials used to make memory foam mattresses are inorganic, which prevents allergy-causing dust mites from thriving. Traditional mattresses with organic fibers attract dust mites who then feed off dead skin cells and multiply leading to allergy issues.
Styles of memory foam mattresses
Land of Sleep carries Dunlopillo brand memory foam beds that feature layers of quilt foam, natural latex, and knit fabric that make them hypoallergenic and comfortable. There are also newer variations on the memory foam beds that feature a combination of innerspring support with memory foam technology. Serta offers different styles of these types of mattresses that allow you to achieve optimal comfort.
Discover what a memory foam bed can do to improve your sleep by visiting the our Venice location of Land of Sleep.