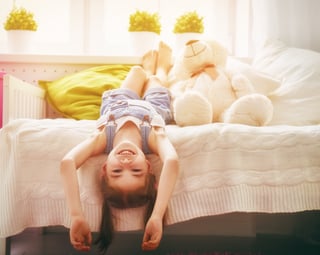 Most children are ready to transition from a crib to a regular mattress or a toddler bed between 1 1/2 years old and 3 1/2 years old. Every child is different though so remember that there's no specific deadline for the transition. Children closer to the age of 3, or children that are too active for their crib, are usually ready for a bigger bed.
Related Blog: Bed Etiquette for Couples with Kids: Pros and Cons of Letting Them Sleep in Your Bed
Reasons to transition
When your toddler starts jumping or climbing out of their crib, it might be time to consider a bed with a regular mattress. If you've lowered the crib mattress as much as possible and the child still climbs out, it doesn't make sense to continue using the crib that's as easy to climb out of as a normal bed. If you're expecting another child and the new baby will need the crib, that can be another good reason to transition your toddler to a regular bed.
Choosing the bed
To help your toddler feel excited about their new regular bed, involve them in the process by bringing them along to choose the mattress and bed frame. Although your child is still too young to make the final decision on the best support for them, they can enjoy laying on the different styles of mattresses. Trying out new mattresses also gets them accustomed to the size of a regular bed and hopefully eager to sleep in one. Once you have a mattress picked out, take your child to pick out new sheets and bedding that features their favorite themes or characters. You can also have a party to celebrate your toddler transitioning to a regular bed and show how proud you are of your "big kid."
Easing the transition
Some children transition easily to a regular bed while others need additional encouragement and support. Moving into a bigger bed usually coincides with other toddler development including toilet training and the beginning of preschool. These can all be stressful changes for your child so it's important to practice patience. To help ease the transition, place the regular bed in the same location where the crib used to stand. Include their favorite toys and blanket on the bed so it feels familiar to them. Install removable guardrails on the bed for safety.
With the variety of mattress styles and frames at Land of Sleep, you're certain to find the best bed for your growing child.