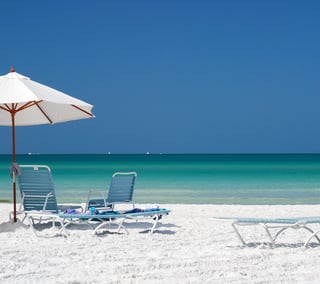 The Sarasota area is home to some of the most beautiful beaches in the world. Some of these beaches are well known, while others are a little more secluded. Here are five of the top beaches to consider visiting this beach season.
Related Blog: Sarasota Moving Tips: Top 10 Restaurants in the Area
#1. Siesta Key Beach
Located on Siesta Key, Siesta Beach is continually rated as one of the top beaches in the world. This year it has been rated as the number one beach on the Gulf Coast by TripAdvisor. And what is not to love with its soft pure quartz sand?

#2. Caspersen Beach
If you want a change of scenery, then Caspersen Beach in Venice is worth visiting. It's one of the most interesting beaches on the Gulf Coast and also tends to be less crowded. The landscape of Caspersen is rocky and full of native flora. It is also known as the Shark Tooth Capital of the World.

#3. Venice Beach
Located 30 minutes south of Sarasota, Venice Beach offers a contrast to Casperan in that it has smooth sand. It can also be less crowded than other beaches and is a great place to unwind and relax. Venice Beach is known for its great views, especially its spectacular sunsets.

#4. Crescent Beach
Located at the Southern end of Siesta Key is Crescent Beach. It has soft, powdery sand like Siesta, but one of the first things you will notice is how clean the beach is. The sand is hard-packed and is great for bike riding and running.

#5. Lido Beach
If you want to avoid a crowd, Lido Beach is a good place to relax because it's frequented more by locals than tourists. While the sand might not be as smooth as Siesta or Crescent, it's a good beach for finding seashells. Lido is also a great place to watch the sun go down without having to deal with crowds or traffic.